CANON RC-470 - 1988. The Canon still video RC-470 had 400-line quality (1/2-inch, 360,000 pixel CCD). The RC-470 was part of the Canon Professional Still Video Imaging Kit that listed at $4,899 and included the FV-540 (on right), a SCSI-based 2-inch video floppy drive, and SV Scan image editing software. The drive and software would display thumbnails of all photos.
http://www.tidbits.com/tb-issues/TidBITS-062.html
http://www.canon.com/camera-museum/history/canon_story/f_index.html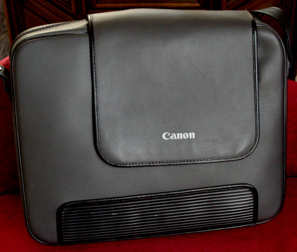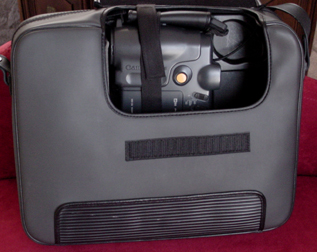 CANON RC-250 XAPSHOT (Ion in Europe, Q-PIC in Japan) - 1988. The XapShot was a Hi-band still video camera with a ½-inch 200K pixel CCD. ISO 100. 11mm f/2.8 lens. Shutter 1/30 to 1/500 second. The XapShot had a built-in flash, self-timer, and an unusual rechargeable lead acid battery. MSRP $499. The $499 was just for the camera itself. Also required was a $999 kit which included one floppy disk, the battery, and computer interface card with software. The two-inch floppy disks sold for $10 each. The USA version of the XapShot could send a NTSC signal to a TV/VCR for playback and recording of images. There was also a very basic software utility that worked under System 6/7 for the Mac in conjuction with the Computer Eyes NuBus video capture card that the camera connected to. Later, a Plug-in shipped that worked with Letraset's ColorStudio and then Adobe Photoshop to capture the images. Popular Photography. December 1991. p108. Click on image to see enlarged view of XapShot exterior and cutaway view.
http://www.canon.com/camera-museum/history/canon_story/f_index.html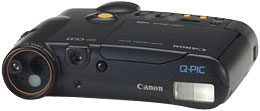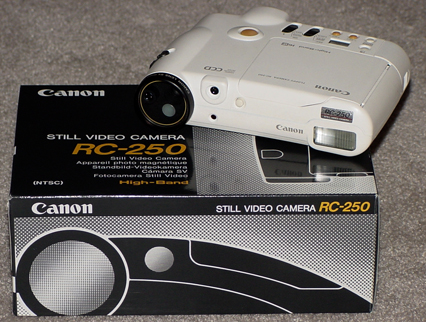 Q-PIC version of the RC-250 sold in Japan. There was also a white version that was sold as a Q-PIC or one that had a sticker on the upper right-hand corner that merely said RC-250 such as the one shown above.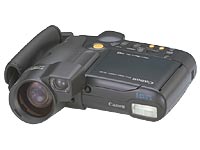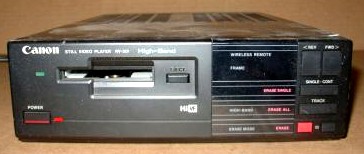 CANON RC-251 ION - 1988. Shown with Action Grip and Teleconverter attached. Based on the RC-250 Q-PIC, the RC-251 (Ion) was a PAL format model marketed mainly in Europe. Floppy disks from still video cameras could be shown on a TV screen by use of a still video player such as the Canon RV-301 shown on the right.
http://www.canon.com/camera-museum/history/canon_story/f_index.html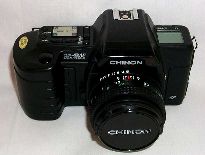 CHINON CP9-AF - 1988. Chinon developed an electronic still video back for its CP9-AF 35mm SLR camera. 640 x 480 pixel CCD. ISO 160. Shutter 1/8 to 1/2000 second. 50 field-frame still video images recorded on a two-inch floppy disk .The back offered single or continuous picture taking at 3 frames per second, automatic and manual white balance, and data recording. However, the digital back apparently never was marketed by Chinon. A 6-volt 2CR5 lithium battery supplied the power. The viewfinder used an optical relay with 2X magnification and 90-percent frame coverage. MSRP for the CP9-AF body: $540. Popular Photography, May 1988, p90. Click on image to see full-page view.
http://www.butkus.org/chinon/cp9-af-extra/cp-9-extra.htm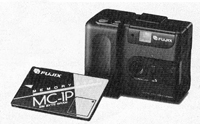 FUJI CARD CAMERA- 1988. A preproduction version of the Fuji DS-1P was shown at the 1988 Photokina in Colone, West germany, as the Card Camera. It had a 400 kilopixel CCD and saved up to ten analog images on a removable 16MB Toshiba SRAM card. Popular Photography, December 1988, page 94.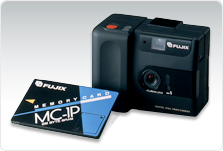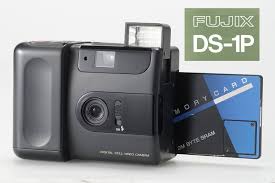 FUJI DS-1P - 1988. The DS-1P was the world's first fully digital consumer camera and the first to record digital images on removable flash card media. It recorded images digitally on SRAM memory cards (SRAM - Static Random Access Memory), with built-in battery for maintaining the memory rather than on a floppy disk as used by still video cameras of that time. The card was developed jointly with Toshiba. 400K CCD. Fixed-focus 16mm f/5.6 (f/4 with flash) lens. Shutter 1/60 to 1/2000 second. Although Fuji demonstrated the DS-1P, there is no record of Fuji having marketed the camera. The DS-X of 1989 was their first known marketing of a digital camera. Understanding Electronic Photography, John J. Larish, 1990, p44. For more informationn on early Fuji cameras and much other early digital technology visit D. van Hall's excellent digicammusem at the below URL.
http://www.digicammuseum.com/history/html
http://home.fujifilm.com/info/tech/advance.html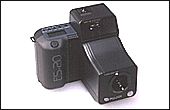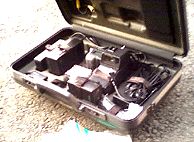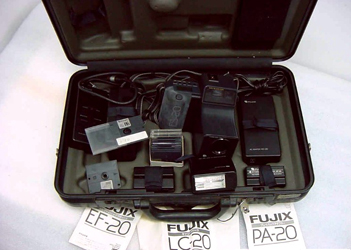 FUJI ES-20 - 1988. Still video camera. 2/3-inch 400K pixel CCD. ISO 80 to ISO 320. 12.5mm to 25mm f/2.8 zoom lens. Shutter 1/2 to 1/1000 second. Autofocus and built-in flash. Audio. The third photo above on the right was kindly provided by a viewer in China. Understanding Electronic Photography, John J. Larish, 1990, p.35.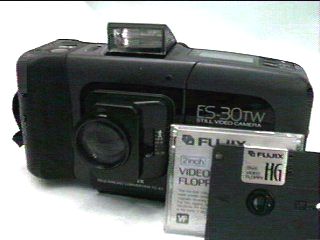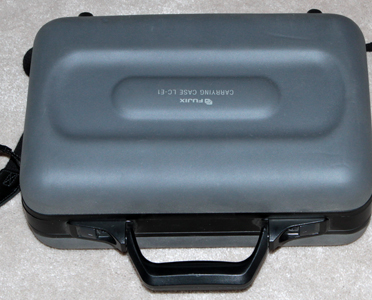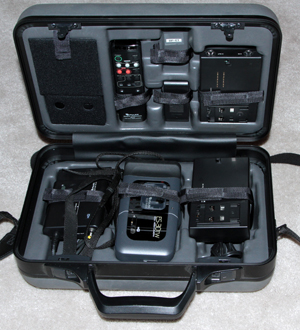 FUJI ES-30TW - 1988. Still video camera. ½-inch 400K CCD. ISO 100 to 400. 7mm f/3.4 and 14mm f/4 lenses. Auto focus and built-in flash. Shutter ¼ to 1/500 second. As with other still video cameras of the time, the ES-30TW recorded images on mini floppy disks (see photo on the left). $720 in Japan. Popular Photography. December 1991. p108. The above camera set was graciously donated by Gary Barr. Although Gary is not a collector, he has a collector's appreciation for early electronic camera technology and has kept his ES-30TW in like-new condition. Unlike many others who discard such items when they become obsolete or nonoperational, Gary searched for a new home for his camera where it would be greatly appreciated and given lots of TLC. Remember, that latest piece of technology you have recently purchased will someday become obsolete as do all such products. You can do future generations a favor by keeping in original condition the box, manual, and all other items that came with you purchase because, sooner than you think, it will become a historical item of interest. If you do, you may someday see your high tech gadget in a museum where your children and grandchildren can enjoy it as you once did.


NIKON TV REMOTE FINDER SYSTEM - 1988. See Nikon Video Remote Control, 1962
JPEG and MPEG - 1988. The Joint Photographic Experts Group selects method for image compression - DCT, Discrete Cosine Transform. JPEG is a lossy compression file format that may or may not cause visible degradation in an image depending on the amount of compression selected. JPEG was developed so that it would be practical to transmit images electronically over the Internet. MPEG was adopted for video-type (moving) images. In 1994/5 ISO Standard ISO 10918 was published as a multi-part international standard that collectively defines JPEG. (NOTE: If you understand the below referenced material, move to the head of the class!)
http://www.standards.org.sg/files/Vol8No3Art1.htm
http://radiographics.rsnajnls.org/cgi/content/full/21/3/789
http://www.db.opengroup.org/sib/details.tpl?id=ISO_10918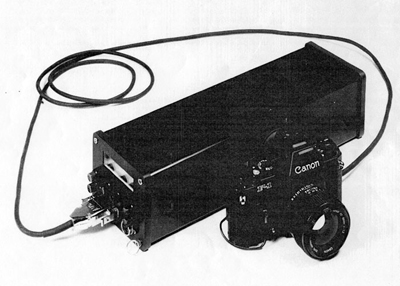 KODAK TACTICAL DIGITAL CAMERA- 1988. The Kodak Tactical Camera was a follow-up of the 1987 Kodak Electro-Optic Camera. It was designed for the purpose of demonstrating the potential of digital photography. Images were stored on DRAM, twelve at high resolution or 48 at 640 x 480 pixels. The Tactical Camera was designed by Kodak's James McGarvey, lead engineer in Kodak's Federal Systems Division who kindly supplied the above photo and information. Kodak technician Tom McCarthy did construction work and Mark Prescott engineered the SCSI interface firmware for recording on an Exabyte drive. Much more information concerning this and other early Kodak DSLRs can be seen on Mr. McGarvey's web site at http://jemcgarvey.com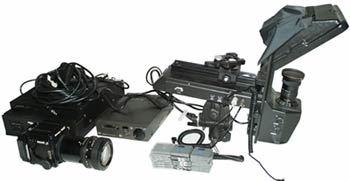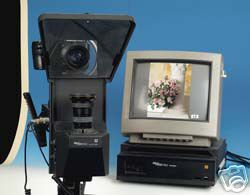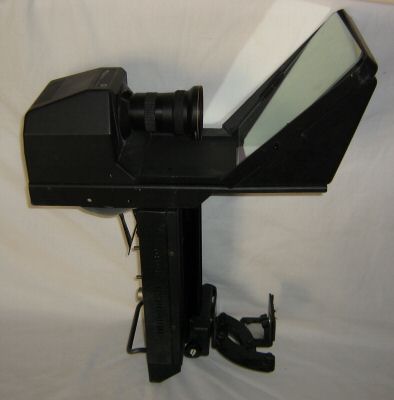 KODAK PRISM XLC ELECTRONIC PREVIEWING SYSTEM - 1988. This system eliminated the need for Polaroid prints to preview film prints while doing studio photography. It used a still video system to show the photographer and model in real time what the finished paper print would look like when returned from the print lab. It also allowed the photographer to tell the print lab which shots to print therby saving time and trips to the lab. Images could be stored on mini still video floppy dics available at that time and could be played back using a still video player/recorder. http://www/photo.net/medium-format-photography-forum/001PxU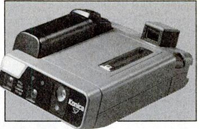 KONICA KC-100 - 1988. Still video camera. Predecessor to the KC-300 shown below. Stored up to 50 analog photos at up to 15 photos per second on a mini floppy disc. Popular Photography, May 1988, page 71.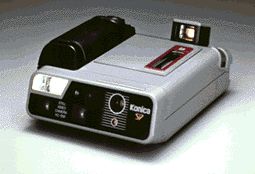 KONICA KC-300 - 1988. Still video camera. 1/2-inch, 300K CCD. ISO 100. Fixed-focus 12mm f/2.8 lens. Shutter 1/15 to 1/2000 second. Built-in flash. Price in Japan, $720. Images were recorded on mini floppy disks which could then be shown on a TV using a still video player such as the Konica KR-400 shown below. Popular Photography, December 1991, p108. Understanding Electronic Photography, John J. Larish, 1990, p36.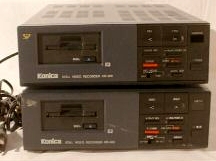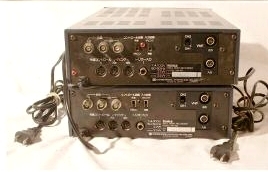 MACINTOSH IMAGE PROGRAMS - 1988. Digital Darkroom by Silicon Beach Software was the first image manipulation program for the Macintosh computer (grayscale only). The PhotoMac by Avalon Development was the first color image manipulation program available for the Macintosh. Information kindly provided by Michel Coste of http://www.micmac.com/ .
http://pdngallery.com/20years/timeline.html
http://en.wikipedia.org/wiki/Silicon_Beach_Software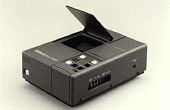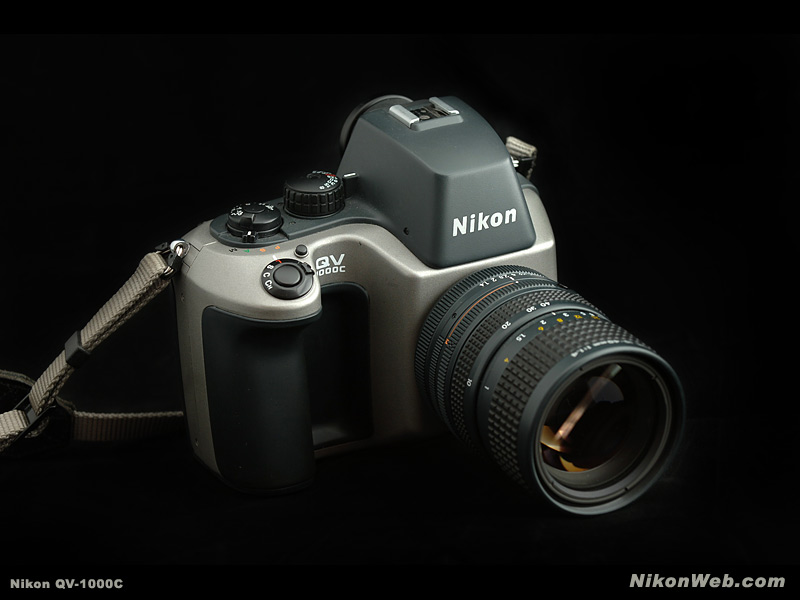 Copyrighted Photo by Jarle Aasland, http://www.nikonweb.com/qv1000c/gallery/qv1000c_800px.jpg

NIKON QV-1000C - 1988. SLR monochromatic still video camera. About 180 units sold. Due to this extremely low production figure, QV-1000Cs are very rarely available for sale and may command prices of several thousand dollars or more. 2/3-inch, 380K CCD. ISO 400, 800, and 1600. Nikkor 10-40mm f/1.4, 11-20mm f/2, or F-mount lenses with F-mount adapter. Focal plane shutter 1/8 to 1/2000 second. Price in U.S. with accessories, $20,300. Popular Photography. December 1991. p109.
An interesting article concerning the QV-1000C appears under the title 'Unlucky Cousins". (http://www.nikon.co.jp/main/eng/portfolio/about/history/cousins/cousins16_e.htm) The four-page article attempts to explain the market-place failure of the QV-1000: "Still video cameras were used by a few newspapers on trial, and when carrying a photo taken by a still video camera, usually the caption 'taken by still video camera made by Xxxxx' was put. As most of pictures were poor in quality, it was a kind of excuse, 'it is due to the quality of the still video camera, not due to the lack of capacity of a photographer, nor the poor printing technique'. However, the pictures taken by Nikon QV-1000C were never given such a caption in spite of many opportunities of being printed on newspapers. As the quality of the picture was as good as that of a silver-halide film picture, such an excuse quoting the name of the product might not be necessary. Thus the QV-1000C has lost the opportunity of being known by people, because its quality was good enough for practical use; it was an irony of the fate." In other words, according to the writer, the QV-1000 failed because it was so much better than other electronic cameras of the time!

http://www.nikonweb.com/qv1000c/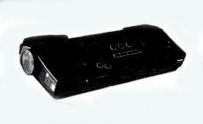 OLYMPUS MAJIN - 1988. Prototype still video camera with playback device. Lens 9-27mm. Up to 15 analog still video photos per second. Attached playback device could produce some darkroom effects. Popular Photography , December 1988, page 94.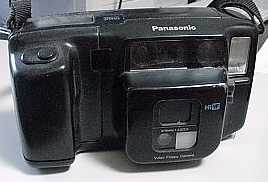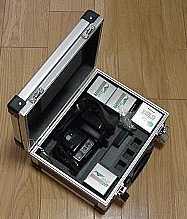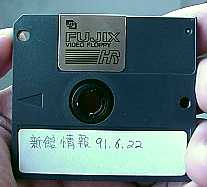 PANASONIC AG-ES10 - 1988. Still video camera (Canon RC-470) . 1/2 inch, 360K pixel interlaced scanning CCD, ISO 80 (Frame) and 160 (Field). Shutter 1/60 second. Lens with two preset foci at 9mm (48mm) and 16mm (86mm) focal lengths. Price, $1,650 with adapter/charger. Popular Photography. December 1991. p109. Photos by Nomura Masato.



PENTAX - 1988. Pentax prototype of EI series of still video cameras. Shown at Photokina '88. 1/2-inch 360K CCD. B&W images recorded to floppy disk. 3X 8mm to 24mm f/2.8 zoom. 10-20 seconds audio per frame. Understanding Electronic Photography, John J. Larish, 1990, p41. Click on image for enlarged view.
http://translate.google.com/translate_c?hl=en&sl=it&u=http://digilander.iol.it/aohc/proto3i.htm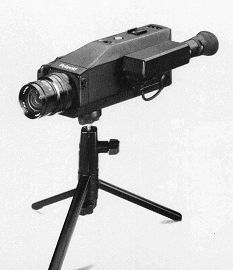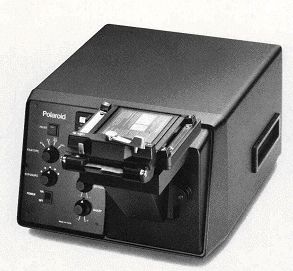 POLAROID 8801 HiRES STILL VIDEO CAMERA AND COMPANION PRINTER - 1988. The Polaroid HiRES still video system was capable of capturing both B&W and color still images. Resolution was 1134 x 486 (551,124) active pixels in the still mode and 1134 x 972 (1.1MP) pixels in the interlace mode. The CCD was 2/3-inch in size. The system consisted of a camera, a control unit, and a printer using Polaroid type 53 or 55 film for hard copy. ISO was approximately 600 and shutter speeds varied from 1/60 to 1/500 second. This system was unique in that is recorded sill images on VHS video tape. Up to 14,000 high resolution (1134 x 486) images could be stored on a single tape. The HiRES control unit was able to store images in digitized form so that they could be also stored on magnetic or optical disks as well as being adjusted by image editing programs. Hard copies of 4 x 5-inch size could be printed instantly by using the companion printer which had a high resolution flat-faced CRT monitor for that purpose. A color version of the system, the G camera, was demonstrated at Photokina '90. Color was obtained by three consecutive exposures through RGB filters. Total color exposure time was as little as three seconds capturing approximately 3.6MP of information. The Polaroid 8801 still video system was used at the Democratic National Convention in 1988. Images were transmitted to an Associated Press electronic darkroom at the convention center and then to the AP headquarters in New York. The normal silver-halide steps of photographing, developing, and then scanning were bypassed. Instead, all images were handled electronically with the first hard copies appearing only at the receiving newspaper's Wirephoto machine (Larish, John J. Electronic Photography. 1990. P99). Information, photos, and drawing were provided by Richard Kee who was Director, Electronic Imaging, of the group at Polaroid that developed the 8801 system.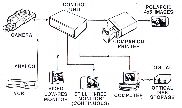 Polaroid 8801 HiRES system showing various viewing and recording options. Click on diagram to see large image.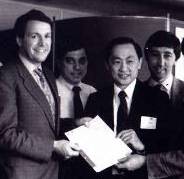 Richard Kee of Polaroid (second from right) accepts the first order for Polaroid's electronic imaging system from Hadland Photonics of the United Kingdom on May 18, 1988. Hadland used the Polaroid camera in their SV-553 system designed for hi-speed photography. They were the first to use still video photography to display instant still photos of ballistic tests on a PC monitor. Exposure times were measured in nano seconds - billionths of a second!




Hadland instant bullet photo (Approx. 400 Nano Seconds).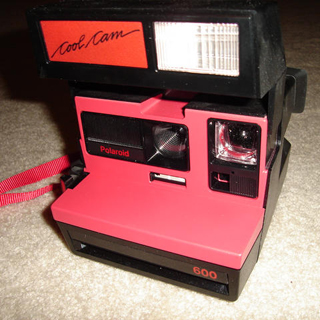 POLAROID COOL CAM 600 - 1988. One of the many popular Polaroid instant cameras marketed over the years since the original model 95 of 1948.
http://en.wikipedia.org/wiki/List_of_Polaroid_instant_cameras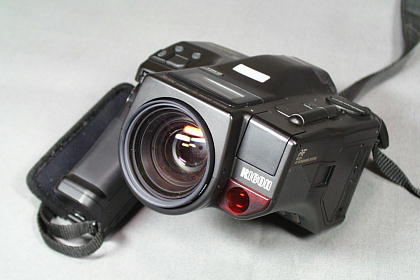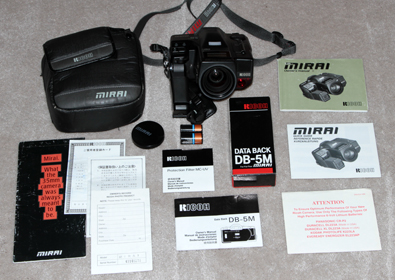 RICOH MIRAI - 1988. The owner of this camera kept all the paperwork that came with it - something every buyer should do as it increases the value of the camera to a collector when the time comes to sell it. Note the hand grip on the left which served as the battery compartment and was also adjustable as to angle. The Ricoh Mirai was a 35mm, autofocus camera launched by Ricoh in 1988. It was equipped with a 38--105 mm auto zoom lens made of 12 elements in 11 groups. The Mirai was extremely compact and easy-to-use, featuring LCD panel, and a viewfinder system which minimized parallax and which was coupled with the zoom lens at every setting. This viewfinder was different from those used with conventional compact cameras, employing a system that showed a corrected and magnified image using the real image obtained through the lens. The Ricoh Mirai was a joint project with Olympus; the Olympus Infinity Super Zoom 330 being nearly identical.
http://classiccameras-photography.blogspot.com/2011/04/ricoh-mirai-105.html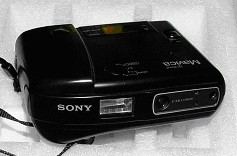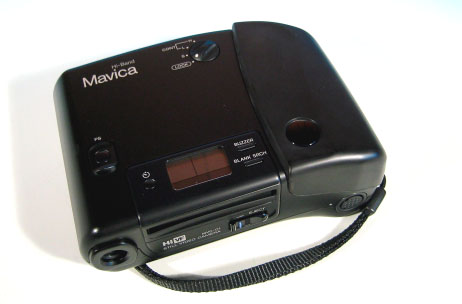 SONY MAVICA MVC-C1 PERSONAL CAMERA AND MVC-A10 SOUND MAVICA - 1988. The MVC-A10 ($350) and MVC-C1 ($230) were Sony's first Hi-band still video cameras intended for the consumer market. Both cameras were essentially the same except that the A10 could record up to 9.6 seconds of sound with each of 25 images when in Field mode. Both cameras had a 2/3-inch 280K MOS image sensor, ISO 80. Lenses were 15mm f/2.8 with shutter speeds of 1/60 to 1/500 second. Features included built-in flash, self-timer, and MAP-T1 Playback Controller for viewing photos on a television set. Popular Photography. December 1991. p109. Click on image to see large photo of C1 with acessories.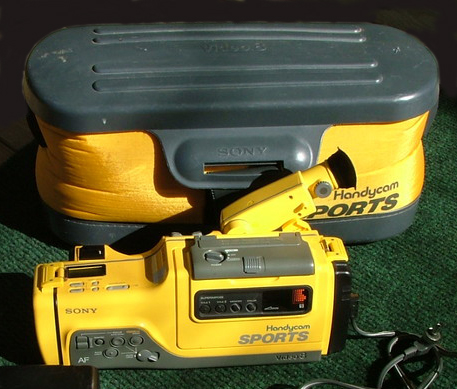 SONY CCD-SP7 SPORTS HANDYCAM - 1988. The splashproof CCD-SP7 was designed for resistance to moisture when recording so that it could be used outdoors under less than desirable conditions. Sony directed repair technicians to check them for watertightness in the shower after any repairs had been made. (Not too sure that many electronics repair shops have showers on the premises.) 6X power zoom with six shutter speeds up to 1/4000 sec. MSRP $1,850 (about $3,550 in 2011). Popular Mechanics, February 1989, page 60.
1988