1993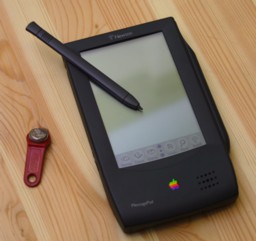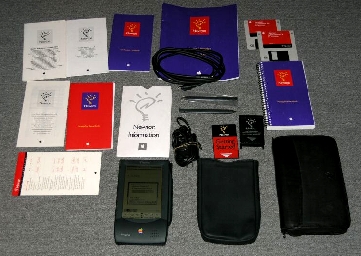 APPLE NEWTON H1000 OMP - 1993. The Apple Newton, or simply Newton, was an early line of personal digital assistants developed, manufactured and marketed by Apple Computer from 1993 to 1998 and whcih sold for $800 (H1000) to $1,000 (following models). The original Newtons were based on the ARM 610 RISC processor, and featured handwriting recognition. Apple's official name for the device was MessagePad ; the term Newton was Apple's name for the operating system it used, but popular usage of the word Newton has grown to include the device and its software together. For collectors, note that the above Newton in like-new condition with its accessories was purchased on eBay for less than $70.
http://en.wikipedia.org/wiki/Apple_Newton
http://lowendmac.com/orchard/06/0207.html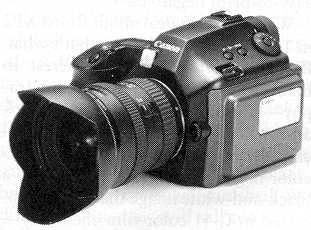 CANON PROTOTYPE EOS SLR - 1993. 1.3MP. Popular Photography, January 1993, p47.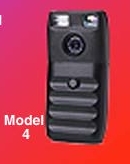 DYCAM MODEL 4 and 4XL - 1993. 24-bit color -or- black and white gray scale. 495 x 366 pixel CCD. Stored 8 standard or 24 low-resolution digital photos. Price, $795. Price included software, host adapter, cables and battery charger. Optional $99 lens focused down to 2.5 inches. The 4XL had four times the DRAM of the Model 4 and cost about $200 more

http://www.dycam.com/r3and4.html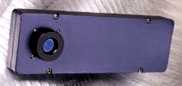 DYCAM GATOR - 1993. Modular digital camera. Developed as a joint effort between Dycam, IBM and the University of Florida Research Foundation. Designed to be used with a variety of optical systems, computer interfaces and power supplies. MSRP: gray scale $495, color $1,995.
http://www.dycam.com/r3and4.html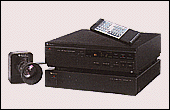 FUJI PR-1H - 1993?? Information required. Please send e-mail if you have information about this camera.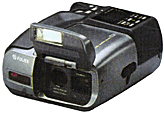 FUJI DS-200F - 1993. World's first digital camera with flash memory.
http://camera-wiki.org/wiki/Fujifilm_digital_cameras

IBM / POLAROID - 1993. There have been reports on some sites about an IBM / Polaroid prototype shown at Winter CES 1993, but a review of presentions at that event show only a remark by Jack Kuehler, president of IBM at that time, stating that they were working on a camera with Polaroid: "He (IBM president Jack Kuehler) also announced that IBM is working with Polaroid to develop a new digital instant camera that will make film processing unnecessary. The images could be manipulated and viewed on a PC." Kuehler called it ''a vivid example of combining the impact of images and the power of computing." Unless we can see a photo or other supporting information, we cannot confirm the existence of such a camera.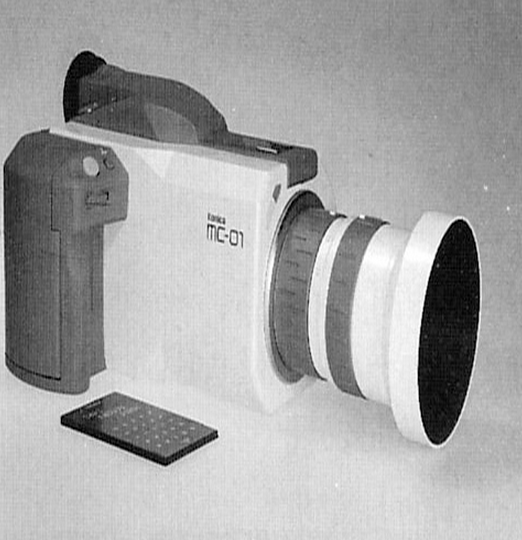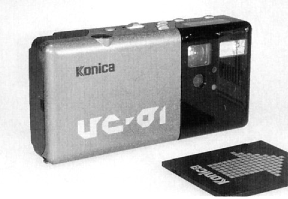 KONICA MC-01 and UC-01 - 1993. In 1993 Konica developed two prototype CCD digicams that stored images on IC memory cards. The MC-O1 was defined by Konica as high definitin and had a 1.3 million pixel CCD with zoom lens at ISO 100 and with an LCD display. Cameras were not marketed. One site operator who is well known for bragging about his rare camera photo discoveries states that photos of the UC-01 and MC-01 are almost impossible to find. I guess that may be true, unless you use Google where the above two photos were found with no trouble at all.

http://www.konicaminolta.jp/about/research/technology_report/1994/pdf/23.pdf
http://www.konicaminolta.jp/about/research/technology_report/1996/pdf/1.pdf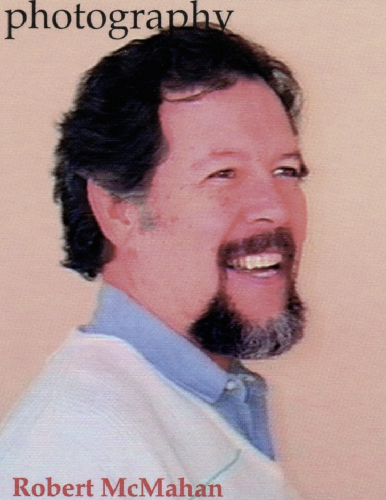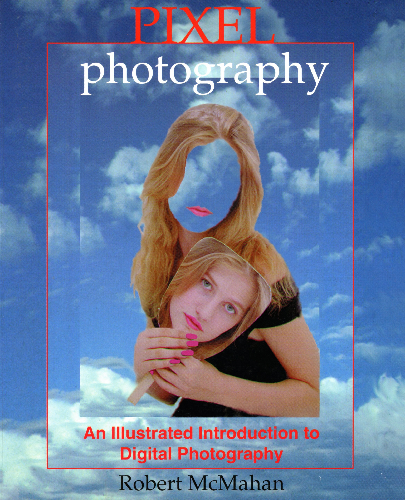 ROBERT MCMAHAN, PIXEL PHOTOGRAPHY – 1993. A guide to using computer technology to create electronic photography introduced readers to electronic imagery, discussing all aspects of photography and tracing the steps, through text and photographs, to electronic imaging. A text for those at the time interested in the growing field of electronic imaging, Pixel Photography covers shooting photographs to be used for electronic imaging, and then takes the reader through the process of changing the photograph to an electronic image to be manipulated on a computer. The book was designed for photographers, desktop publishers, graphic designers, printers, artists, and others interested in this then new technology. The descriptions of the early technology and still video and digital cameras available at that time make this book a must have for collectors of still video and early digital cameras.

http://www.amazon.com/Pixel-Photography-Robert-McMahan/dp/1881656012
https://www.lensculture.com/books/7202-pixel-photography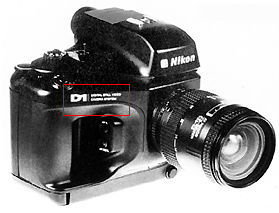 NIKON D1 PROTOTYPE F - 1993. During the 1993's Newspaper Exposition ('NEXPO'), New Orleans Nikon showcased a D1 model which has a very strong appearance of the E-Series. The camera, capable of delivering a resolution of 560,000 pixels (1088 x 480), shutter speed range from1/8 to 1/2000 sec, and a rapid shooting rate of 1.7 eps (exposures per second) probably formed the basis for the joint venture project with Fuji Film Ltd. later to co-develop/produce the E-series models. The eventual product improved the image resolution from this prototype unit to 1.3 million pixels (1,280 X 1,000).
http://www.mir.com.my/rb/photography/companies/nikon/htmls/models/digitalSLRs/index.htm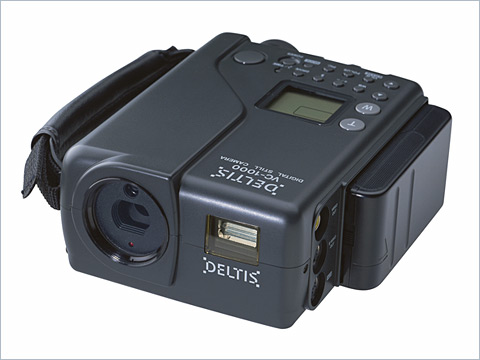 OLYMPUS DELTIS VC-1000 - 1993. Digital camera. Zooming could be varied from a focal length of 10.2 mm to 19.6 mm (54-108mm 35mm camera equivalent). 768 x 576 pixel CCD. Shutter 1/8 to 1/10,000 second.

http://camera-wiki.org/wiki/Fujifilm_digital_cameras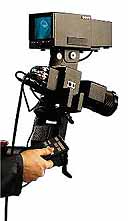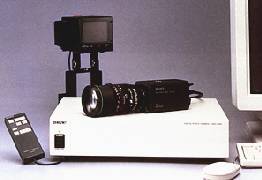 SONY DKC-5000/PC1 CATSEYE - 1993. The DKC-5000 CatsEye digital camera was intended for commercial studio applications. Three 440K pixel, 1/2-inch CCDs (red, blue, green) provided a 1540 X 1120 pixel image. ISO 100, 200, 400, 800. Shutter 1/10,000 to 4 seconds. MSRP $15,000.
http://www.ampronix.com/content/web/sony_dkc5000.asp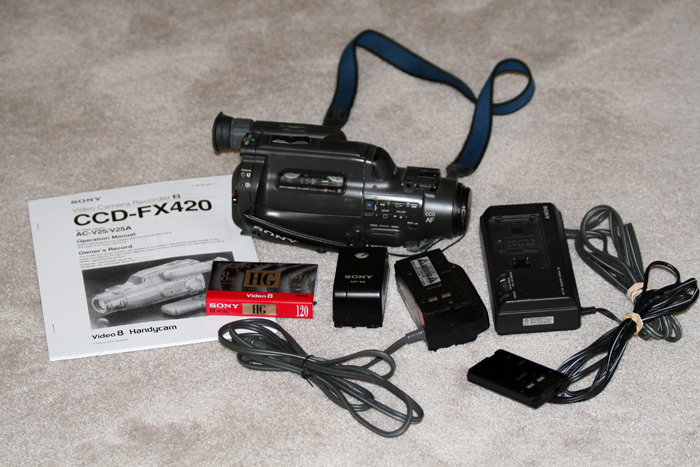 SONY CCD-FX420 HANDYCAM - 1993. Typical analog camcorder of the late 80's and 90's, the CCD-FX420 used 8mm video cassette tape as a recording medium. Features included infra-red auto focusing, 10X zoom (two speeds), macro, fade-in and fade-out, focus hold. Shown above with AC-V35 AC power adapter, AC-V25 charger and Sony battery NP-68.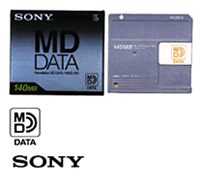 DATA MINIDISC - 1993. In 1993 Sony announced MD Data, a version of the MiniDisc to be used for storing computer data. The Data Minidisk was used later in the 1997 Sony Cybershot DSC-MD1 camera.
http://en.wikipedia.org/wiki/MiniDisc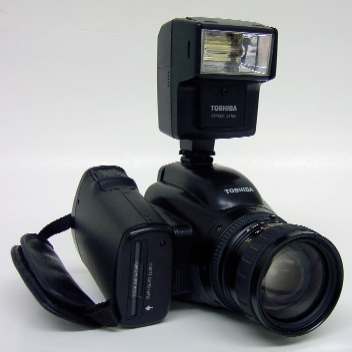 TOSHIBA MC200A - 1993. Upgraded version of the 1990 MC200 memory card camera. This very rare photo provided through the courtesy of John Mehrman, Toshiba Corportation.
1993